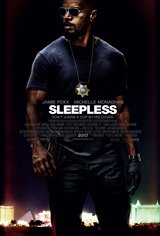 2.9/5
Based on 20 votes and 8 reviews.
30.00%

10.00%

20.00%

0.00%

40.00%
Please rate between 1 to 5 stars
Showing 1-8 of 8 reviews
May 19, 2017
A great cast - but a totally "crap" stupid movie. The story line is so mediocre and the acting terrible
March 29, 2017
this movie was complete crap, save your money wait till it comes out on T.V not even cable quality
February 9, 2017
This movie kept me engaged from start to finish. Nicely done. Looking forward to a sequel.
January 27, 2017
"Sleepless" didn't fit the title. So, with all that shooting in the garage, no cops never came down there even though they were in the hotel lobby! Gabriel Union had her engagement ring on, but as soon as Jaime notice it, the next time you saw her it wasn't on. TI acting was not good!
January 19, 2017
Poor sloppy plot at best, he gets knifed on his right side and later in the movie it shows him bleeding from his left side (stupid mistake) to make. This was Jamie Foxx's poorest movie ever.
January 17, 2017
it was as much action as the last bourne movie and leaves us wanting more based opn the ending
January 17, 2017
Terrible movie! No real story. Unremarkable acting. And what is the title "Sleepless" even in reference to? A bomb!
January 2, 2017
It looks good