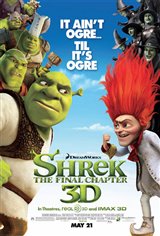 4.02/5
Based on 636 votes and 147 reviews.
Please rate between 1 to 5 stars
Showing 31-40 of 147 reviews
July 30, 2010
good family fun
July 30, 2010
Wonderful! Even if it is the 3rd one it still makes you smile and laugh out loud. The story is a twist on the previous ones and enjoyable for all ages. I wish they would make more Shrek movies!
July 30, 2010
Good but not great. One to many movies on the same character. Script has to get stronger with each sequel. It is a movie to go with the kids there will be a moment where everybody is happy
July 30, 2010
great family show
July 30, 2010
I think the series should have ended with the second movie. But even so this one was a good way to finally finish it off. When I heard that this was the forth film I had to see the third one and was thoroughly disappointed. Gladly the fourth was much better.
July 30, 2010
what started as a great comedy has spawned three sequels that have been funnier that the last. the cast and its newcomers seem to fit together perfectly, the shrek legend could go on for a long time if they keep using this formula. The writers really know how to stick it to pop culture and celebrities. the jokes are fast and funny, keeping kids and adults entertained.
July 30, 2010
Not one of the best movies ever, but I liked it
July 30, 2010
I took my 6yr old and 3yr old. Surprisingly they both sat through it. Different, not like the others. Shrek 2 & 3 were my faves, but Shrek Forever After is definitely worth going to see!
July 29, 2010
I'm finding the Shrek movies very predictable.
July 29, 2010
I did not care for this movie at all. I was bored out of my mind and would have walked out if my stepdaughter didn't seem to be into it.