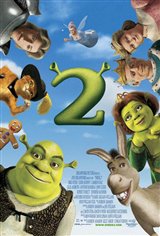 4.42/5
Based on 23252 votes and 260 reviews.
Please rate between 1 to 5 stars
Showing 1-10 of 260 reviews
February 16, 2018
This sequel might be even better than the first movie, and it is hard to be better than the first movie.
October 15, 2006
You know, I don`t like cartoons, but Shrek is really one of the better ones. I like Mike Myers sense of humour so when he brings it to an orge it`s pretty funny. The sequel does have a different feel than the first one, but I think it`s better.
July 30, 2006
I didn`t think this movie was very good compared to the first one. Although, there were some funny moments. 3 stars
May 24, 2006
A Sequl better then the first!
December 23, 2005
I THINK THAT SHERK 2 WAS A HIT B/C OF JULE ANDREWS, B/C SH E IS THE BEST ACTRESS IN THE WHOLE ENTIRE WORLD
November 4, 2005
I really enjoyed the chatul be magafayim (Cat in Boots) Just like a real cat, made me want to hug him everytime he stand up straight with his boots and the way he swayed his sword, it was so exciting to see him fight. Chamor (Donkey) is also so cute, he and Chatul (Cat) made me laugh so much along with shrek.
August 21, 2005
when I saw the first Shrek I walked out of the theater laughing
June 21, 2005
i think shrek 2 was awsome!! i hope they make a shrek 3! puss in boots rok so does donkey!! thet r the ones that keep the show funny! i lke all the other characters 2 but i like puss in boots and donkey the best!!! also thoght that the movie was funny!
February 26, 2005
It was a gr--t movie!! I watch over and over again!!I rate it 10 out of 10 movie my favorite family movie!!!
February 25, 2005
this movie was bad...hmmm I don`t care much for getting a rise out of people, it was bad...dreamworks are hacks on pixar!