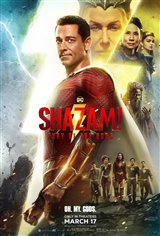 4.43/5
Based on 46 votes and 19 reviews.
Please rate between 1 to 5 stars
Showing 1-10 of 19 reviews
May 1, 2023
Pop corn fun kind of movie with a nice surprise in the end .....what a blast.....saw it home and now going to see it on the big screen at a old theater.....it a shame that it didn' do good at the box office
April 7, 2023
Some movies simply MUST be experienced on the giant motion picture screen.
April 4, 2023
Having watched the Shazam streaming version, l wasn't sure if l was going to like this, but it was entertaining, funny, and good for the whole family.
March 28, 2023
A very entertaining movie. Zachery Levi played his character perfectly. A super hero, who half the time, is clueless of what's going on. I was laughing on the way home thinking about the movie. It's more a fantasy/comedy. You do have to really pay attention to the dialog because some of the humor is very subtle. Special effects were great too. The imaginative & creative minds in hollywood is great.
March 28, 2023
Great movie, saw this last week in the theater and really enjoyed it. Zachary Levi was awesome once again as Shazam. All five stars.
March 28, 2023
C'mon, you trump supporters are too serious - An action hero that crash lands :):). I forgot, you're deep thinkers, but would take our clownish former president seriously. Go super-hero t___p ! Loved this movie for its humor. Truly not a trump-supporter movie.
March 26, 2023
Entertaining, funny, silly, cute, sweet, pleasant, action packed, with some surprises. Well worth the $4 I spent, and I would have spent more. I'm not a huge Marvel fan, but I am a conservative who really enjoyed this movie - good clean fun for the whole family! I enjoyed the 1st one too, which is why I came to see this one.
March 25, 2023
I've seen worse movies, not many but some. The acting was terrible. The dialogue was like a six year old wrote it and the action not much better. It looked like those who wrote the screenplay did it just so they could Krupp with Marvel. I'm glad we only paid $4 each, which was still a waste of money and two hours.
March 23, 2023
I really enjoyed watching this movie. The acting was excellent and the visual effects were great. It was action packed. Life today gets stressful. Relax and see this movie and forget your troubles.
March 23, 2023
I really liked this movie. Lots of action and comedy for the whole family. Well acted with decent special effects. Furthermore, the best part of the movie, was that it was a fun adventure. It strikes a balanced between comedy and drama, kind of like the first Karate Kid movie. To sum up, it is a fun adventure, with no cringe virtue signaling or political messages.