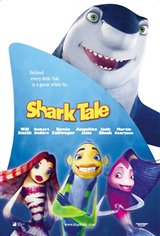 Shark Tale
132 Reviews
|
Write a Review
In Theaters: October 1, 2004
3.95/5
Based on 7943 votes and 132 reviews.
69.54%

3.33%

2.55%

1.58%

23.01%
Please rate between 1 to 5 stars
Showing 1-10 of 132 reviews
January 27, 2019
LOVED IT!!!!!!!! #PETER FALK!!!!!!!!
March 8, 2014
This movie was awesome! Jack Black and Will Smith make an awesome duo!
July 27, 2006
Not very funny... Oh well, I thought the story line was bad too. 1 star.
April 22, 2006
Iloved it!
December 11, 2005
I loved it!!! it was hilarious!!
October 7, 2005
this ia a pretty good movie if u hav a good sense of humor time to watch it because if you only watch parts of it yopu won`t get it at all!! over all i give it a 3 out of 5
June 27, 2005
very good movie
April 9, 2005
DIS MOVIE IS DA BOMB!!!!! ITZ SO OSUM!!! PPL U SHUD C IT CUZ ITZ DA BEST MOVIE EVA!! WELL, NOT DA BEST, BUT ITZ RELI CLOSE!! C IT!!!
March 30, 2005
Shark Tale it`s a great film.I`m 12 years old,I know that I`m big but i like the film I saw it 3times.
March 28, 2005
this movie is excelent no doubt about it. will smith as oscar is a stroke of genius.any1 who trashed this movie cant tell what a good movie is...even if it danced naked right in front of them