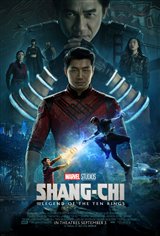 Shang-Chi and the Legend of the Ten Rings
3.89/5
Based on 94 votes and 39 reviews.
Please rate between 1 to 5 stars
Showing 1-10 of 39 reviews
September 25, 2021
Wasn't expecting this to be much but we were definitely surprised!! Any Marvel fan will love this movie! Great storyline, action packed, special effects, and so much more!
September 22, 2021
This was a great time at the movies. If you didn't like this action martial arts superhero flick then you went in there not wanting to like it because it's one of the best of its genre.
September 21, 2021
It's an wesome martial arts Marvel superhero movie. I loved it.
September 18, 2021
Loved this character in the comics when I was a kid, and love how they've updated him and his family for the big screen. Excellent kung-fu battles & stunts, especially the scenes on the bus and in Macao. Awkwafina brings great comic timing, Shang-Chi's dad and sister are much more interesting and sympathetic characters than they ever were in the comics, and the giant monster battle at the end brings some interesting Lovecraft and kaiju energy to the mix. A very worthy addition to the MCU!
September 16, 2021
Extremely bad , not sure what all the hype was about , wanted to leave half way thru but stuck it out til almost the end
September 16, 2021
Enjoyed this way more than I thought I would.
September 16, 2021
A great mix of myths and fights. We get to meet wonderful creatures who happen to live in a maze of a forest.
September 15, 2021
This movie was so much fun! It had the best of both worlds in it. The fighting scenes were awesome as well as the costumes. Entire movie was done so well. All the characters were great in it, so much action and humor at times made us laugh. There were seniors in the audience who loved this movie. Scenery and background scenes were beautiful. I enjoyed this more than Black Widow :) Can't wait for the sequel.
September 15, 2021
This movie is not worth the money. It's overrated. It is as bad as COVID-19.
September 14, 2021
I am 60 and it was one of the best movies before COVID!!!!!