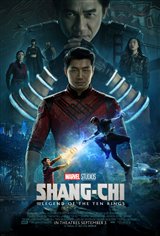 Shang-Chi and the Legend of the Ten Rings
3.95/5
Based on 126 votes and 54 reviews.
Please rate between 1 to 5 stars
Showing 1-10 of 54 reviews
February 10, 2022
Not a very well thought out movie. It was kind of mindless. The original comics were much better.
December 28, 2021
This movie was really bad. However most of the reviews here on tribute are crap and probably originate from Marvel. The M She U is in big trouble if they continue on this path.
December 19, 2021
I am looking forward to the sequel You did good marvel I love you 😍
October 13, 2021
Loved everything about this movie: story, action, actors, writing, direction and so on! High powered!
October 13, 2021
Not bad at all. Good chopsocky action here, and that's been lacking in these superhero flicks. Awkwafina was awkward and she's the main debit here. Shang-Chi and the Regend of the Ten Lings is worth checking out.
October 11, 2021
Pretty good film is a new slant on the superhero genre.
October 6, 2021
MUST SEE MOVIE! Full of suspense and surprises. Plenty of action. Great acting, just may be best picture this year.
October 6, 2021
Awesome movie paired with great artistry, comedy and chemistry!
October 4, 2021
I loved this movie. It had so much action and a lot of funny parts. I was really laughing throughout. Some of the lines were hilarious. The actors were fantastic.
October 4, 2021
Really great action scenes, not to mention the comedy in this movie is actually really funny and not cringy at all. The story line is really good and i love a good super hero movie WITHOUT it revolving around a love interest. Overall, one of my favourite marvel movies! Main characters are not women, but the women in this movie kick butt which is nice to see.