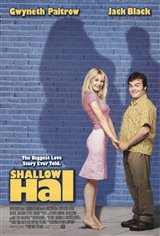 4.04/5
Based on 1372 votes and 52 reviews.
Please rate between 1 to 5 stars
Showing 1-10 of 52 reviews
February 23, 2015
So well balanced between humour and message. You decide what it is - amazingly it doesnt preach. Maybe some of us are helped with our mid-life crises, and working out who is responsible and what possibilities still await us...
October 14, 2006
The biggest thing about Shallow Hal is that you`ll forget that Gwenyth Paltrow is playing a fat girl. So I kept on looking at her and Jack Black and thinking they made a weird match. Also when she broke chairs and could make the biggest splash in a pool you have to remember that she`s fat. But with the ending you`ll find some real heart.
December 30, 2005
When he returned to the Pediatric Burn Unit, I cried so hard I had to close the window so the neighbors wouldn`t hear me. I knew what was going to happen but still wasn`t prepared. I`m a changed man. Really.
June 7, 2003
I really loved this movie. It was poignant and gives you something to think about. Not just a waste of time.
January 13, 2003
I ALREADY SEEN SEVERAL SHALLOW HALS WROTE REVIEWS ON THIS MOVIE, FUNNY.
September 1, 2002
Pretty funny...and had an EXCELLENT meaning towards the audience...if you`re looking for a light great laugh i definetly would recommend it!!!
July 9, 2002
i love that movie i think its great not the best couz there
July 7, 2002
Excellent film. Hilarious. Very warm and heartfelt. I realize that some people were offended by the jokes, but I thought that the film had a message behind all the laughs. Great performance by Jack Black. The energy that he brings to the movie reminds me of Chris Farley, but Black displays a much more "refined manic" energy that Farley. The character development of Hal stuck out the most for me.
July 5, 2002
I though it was Awesomeand my grandson of six found it to be funney he loved it .
July 3, 2002
it was good a funny