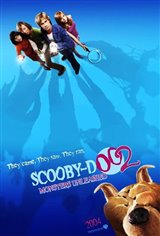 Scooby-Doo 2: Monsters Unleashed
58 Reviews
|
Write a Review
In Theaters: March 26, 2004
4/5
Based on 7929 votes and 58 reviews.
73.87%

0.90%

0.52%

0.47%

24.25%
Please rate between 1 to 5 stars
Showing 1-10 of 58 reviews
March 16, 2012
not since the empire strikes back has a sequel built upon a first film so winningly. an absolute delight, with a kickin' soundtrack featuring rueben studdard!
December 9, 2009
Best sequel ever!
February 1, 2006
really cute movie! I loved it! It was Awesome!! Funny!! :)->-<
September 27, 2005
I think that Scooby-Doo 2 was the best movie ever!I got cracked up! If I could find the movie anywhere I would definetly buy it!Ihope that the people that made this movie should make a Scooby-Doo 3!#1 fan Amarpreet D.
September 26, 2005
I think that this movie was the best movie ever!The movie was also very adventurous. All my cousins,sister,and brother and I thought that Scooby Doo 2 was the bomb!Ijust loved it!
July 18, 2005
erik it was awsome
October 12, 2004
wow this is a cool movie!!!!!!!
September 20, 2004
dude this movie is the bomb man the bombe its sooooo funny especially Mathew Lilarde i thinke thats how to spell it but any way he is cool man big fan of shaggy and the dude how plays him too but its funny man. DUDE
August 18, 2004
it`s really funny theres like no word to describe it
August 15, 2004
it unleashed alot of greatness