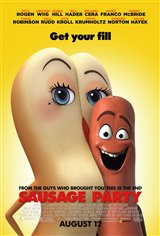 Sausage Party
| 69 Reviews
Write a Review
In Theaters: August 12, 2016
On DVD/Blu-ray: November 8, 2016
3.17/5
Based on 292 votes and 69 reviews.
Please rate between 1 to 5 stars
Showing 1-10 of 69 reviews
May 24, 2019
this was hilarious!!
October 26, 2016
Had some laughs at the overly crude and sexual jokes but mostly the funniest scenes are in trailer.
September 23, 2016
Not that bad... not worth seeing in the theater though.
September 20, 2016
Unless you wanna watch food having sex and only laugh once or twice...being stoned didnt help my friend either dont see this.
September 20, 2016
It was just childish humor the whole time, not subtle at all. Got to be too much after a bit
September 18, 2016
The buildup was fantastic and then it kina just layed there, it died too early and they ran out of ideas. get better writers involved...its like they got board halfway through.
September 18, 2016
Great voice actors, interesting plot, way to much sex. This kind of comedy is aimed at teens, however teens are getting smarter and you guys have to step up your game. There were some funny parts but nothing to write home about. Too bad was hopeing for more??
September 18, 2016
Awesome voice actors, a star studded cast, however a little too much adult humor. A down right orgy of and food condements. IMHO, These movies work best aimed at children with a sneaky hint of adult humor for the sheer emansipation of the adult mind. Just letting the parents know that we remember they are there and we are bright enough to slip in some adult humor to let them enjoy it with their kids.
September 16, 2016
This was a very funny animated movie. After you see it, you'll never look at the groceries on the shelves of your grocery store the same way you did before.