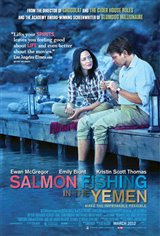 Salmon Fishing in the Yemen
29 Reviews
|
Write a Review
In Theaters: March 9, 2012
PG-13 | Comedy | 1h 52m
4.21/5
Based on 66 votes and 29 reviews.
51.52%

21.21%

24.24%

3.03%

0.00%
Please rate between 1 to 5 stars
Showing 1-10 of 29 reviews
August 17, 2012
made me want to go out and get my own rod and reel!
August 17, 2012
decent film...not really a 'chick-flick', but good.
August 14, 2012
if you like emily blunt's smile, see it, you'll get quite a few. otherwise watch it if you fish!
August 9, 2012
loved it!!!!!!!!!!!!
August 9, 2012
cute and likeable film. emily blunt is stunning as usual.
August 8, 2012
my instinct was that the fmraimkels intended to emphasize the message of the movie. the movie begins with a scene emphasizing the harm of the diamond trade and ends with on-screen text reiterating this point.i personally liked it better than the last samurai. the last samurai is only three years old and i can barely remember anything about it. i have a feeling that blood diamond will stick with me for longer than that.
July 10, 2012
if you love movies with a real heart and soul, you'll love this movie----they are so rare. you'll feel better when you leave the movie, than when you came in!
June 9, 2012
an interesting drama about 2 people attempting the near impossible and, predictably, a romance develops but more importantly, their lives are enriched by this challenge and the experience makes them passionate about life again.
June 8, 2012
it's romantic and funny; i saw it twice, two days in a row.
June 2, 2012
good movie focusing on character development as well as story. very likeable characters.