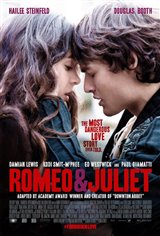 3.42/5
Based on 84 votes and 13 reviews.
Please rate between 1 to 5 stars
Showing 1-10 of 13 reviews
November 2, 2013
Really good movie, really entertaining. beautiful Italian scenery, gorgeous, colourful costumes for the time period. Worth seeing if you like Shakespeare's Romeo and Juliet. Even if people haven't read the play, they should still go see it.
November 2, 2013
Cinematography was beautiful. Was pleasantly surprised at how easy the Shakespearian dialogue was to understand. Casting was wonderful - thoroughly enjoyed it.
November 1, 2013
Beautiful sets and costumes. Nice to see story set in the time period it was written for. Found Romeo's model good looks distracting/unbelievable compared to Juliet. Wanted to like it more but didn't feel the chemistry or passion. Only the Friar's performance rung true.
October 31, 2013
It was an okay movie
October 30, 2013
emotional and great love story here
October 29, 2013
Romeo and Juliet is a wonderful interpretation of Shakespeare's masterpiece. I loved the acting, writing and directing. Highly recommended!
October 29, 2013
this is a great movie tender moments and lots of love
October 29, 2013
Cards on the table: The 1968 version of "Romeo & Juliet" directed by Franco Zeffirelli is a perfect adaptation of the play, a fantastic film, and if you are, for some reason, too lazy to read the play, this is the version you should see. It is timeless, beautiful, and easily accessible even today. There have been a bunch of adaptations -- many of which have been seen and remembered by very few -- of William Shakespeare's tragedy, but the '68 version stands out among the crowd. I mention this right off the bat because you need to know where I'm coming from when I review this 2013 adaptation of "Romeo & Juliet". Prior to seeing it, I could see absolutely no reason for a new version to be ma