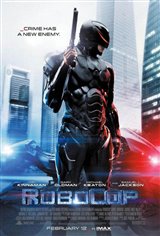 3.7/5
Based on 100 votes and 38 reviews.
Please rate between 1 to 5 stars
Showing 1-10 of 38 reviews
October 23, 2020
Its a very good film and the scenes were very good also.
February 21, 2018
Easily the best of the series, ROBOCOP 3 is a pure delight, mixing equal parts action, comedy, and human drama into a tasty melange of high-calibre excitement.
November 18, 2016
Great reboot and that's because I never saw the old robocop movies. At the end we learn that the people we think are protecting our country are the ones that are causing violence. it goes the same in the government. The end
July 24, 2014
I love RoboCop, it was excellent. Samuel L Jackson was amazing so was Gary Oldman. It is a must see for old fans, they bring back some of the original thing but also a lot of new things, I really recommend it.
June 12, 2014
Absolute garbage, should have been called RoboFlop. The original was a far better movie.
May 20, 2014
This movie was actually pretty good! Way better than the first one! More action.
April 2, 2014
I really enjoyed seeing RoboCop 2014 on opening night. It was also my first time seeing a movie at a new Regal RPX theater. The movie was completely different than I was expecting and exceeded my expectations. Far better story line than the first RoboCop.I may see it again this weekend.John / Florida
April 2, 2014
We took a family of four including a 13 and 11 year old. I was expecting this to be a flop but came out of the movie wanting to watch it again. The story line was very well developed. The actors were all great and the action was excellent. Everyone in the family loved it and we found it appropriate for the kids. Definitely recommend this one.
March 23, 2014
It was a fantastic movie.
March 14, 2014
Having grown up with this film i appreciate the reboot for a new generation. Far better than the older one OF COURSE, we have the technology to reboot it, why not? I enjoyed it very much.