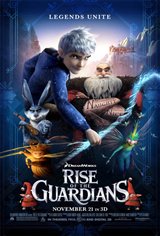 Rise of the Guardians
27 Reviews
|
Write a Review
In Theaters: November 21, 2012
4.58/5
Based on 100 votes and 27 reviews.
75.56%

13.33%

6.67%

2.22%

2.22%
Please rate between 1 to 5 stars
Showing 21-27 of 27 reviews
November 26, 2012
Epic really funny really cute and had a cool story "i love being put in a bag and tossed thought a magic portal" "GREAT! that was my idea!'
November 26, 2012
I gave it five stars because the kids LOVED it. I however was bored. If you want to enjoy this movie, enjoy your kids enjoying it.
November 25, 2012
Just remember this movie is for young audience and the young at heart. i think this movie nailed it for them. It explains the characters very well and the story line was great. From beginning to end i love it! Infact, once the movie ended the whole theatre clapped. You don't get that often.
November 24, 2012
I couldn't believe how amazing this movie was! I can't remember the last time I saw such a well rounded movie. I was enthralled from beginning to end!!
November 24, 2012
My 6yr old loved it!
November 21, 2012
Rise of the Guardians was one of the best movies I've seen in a long time. The animation was great, and the pace wasn't slow. A wonderfull story. By the end I couldn't stop smiling.
September 12, 2012
awesome!