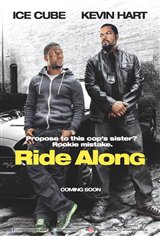 Ride Along
19 Reviews
|
Write a Review
In Theaters: January 17, 2014
3.5/5
Based on 58 votes and 19 reviews.
32.14%

21.43%

25.00%

7.14%

14.29%
Please rate between 1 to 5 stars
Showing 11-19 of 19 reviews
January 30, 2014
Great movie!!! Really funny and not a good balance of action and plot
January 27, 2014
Funny....Cube and Heart are a pretty good team.
January 24, 2014
a very hilarious movie highly recommended for those with a sense of humor.
January 20, 2014
very much worth watching. pretty funny
January 19, 2014
Cube's best since Anaconda; Hart hasn't been this good since Grudge Match.
January 18, 2014
Awesome movie heaps of attention and lodes of unexpected comedy. Loved it.
January 18, 2014
great!!!
January 18, 2014
ok its obvious that the first review was done by someone who has not even seen this movie yet. It only came out yesterday & I just came back. My hsband and I found it a truly well acted film. With some funny things going on & a strong story line!
January 14, 2014
This movie is a fail. It has no plot and it makes no sense of seeing this one at the theatre. Just skip watching this movie. This movie is dvd rental.