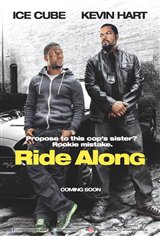 Ride Along
19 Reviews
|
Write a Review
In Theaters: January 17, 2014
3.5/5
Based on 58 votes and 19 reviews.
32.14%

21.43%

25.00%

7.14%

14.29%
Please rate between 1 to 5 stars
Showing 1-10 of 19 reviews
November 23, 2014
It is a excellent movie, I love Kevin Hart, he is great.
May 12, 2014
VERY FUNNY MOVIE
May 9, 2014
very funny and highly entertaining movie
May 6, 2014
funnier than anticipated.
March 28, 2014
Beautiful comedy of a police initiation of a recruit. A new job, a new difficulty. The first day of a police officer is announced to be a big torment to all points of view. This is the real versus the fiction, a test? Who knows! The recruit passed all the tests of the day. He is really proud. So, he brought out his great weakness, the prattle! His trainer, in contrast, had to deal with this situation and also with his character. Finally, it has benefited from his weakness of his trainee for a technic of deviation and get out of a difficult situation. Beautiful scenario, it is a very good movie!
February 23, 2014
Same old ice cube... Hart is hilarious.
February 11, 2014
It was cool & it's been only a few days & now my hubby is going back with me today..to see it for his 1st time..must grab the dvd when it comes out...funny
February 7, 2014
Boring and more boring. boring.. Acting brutal, plot silly and just a waste of money! How did this get to be the NO.1 movie?
February 3, 2014
worth ur time.
February 2, 2014
The movie was a bit lame, I can't give it more than 3 stars.