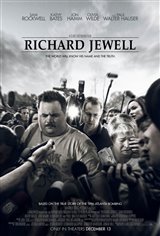 Richard Jewell
| 83 Reviews
Write a Review
In Theaters: December 13, 2019
On DVD/Blu-ray: March 17, 2020
R | Drama | 2h 11m
4.56/5
Based on 234 votes and 83 reviews.
Please rate between 1 to 5 stars
Showing 1-10 of 83 reviews
March 16, 2020
Another good movie directed by Clint Eastwood .Had no idea what hell that Richard Jewell and his mother went through to clear his name until I saw her on ABC's Night Line several weeks earlier , then made obvious in this film .Sam Rockwell was excellent as Richard's lawyer .
February 5, 2020
I like this movie. No CGI so the story, acting and direction had to carry this movie. Clint E pulled it off. I hope this type of movie continues to be made. Lead a better, more interesting life to inspire movie makers to make fantastic films.
January 16, 2020
Excellent
January 14, 2020
An excellent movie.Superb acting!!! How could this movie NOT receive Oscar nominations???
January 9, 2020
I just saw the movie "Richard Jewel "and believe it is one of the best overall and expertly directed films I have ever seen. The acting is amazing as is the editing and cinematography. I cannot remember the last film I voluntarily saw twice, but this one I definitely will. If you yearn for a time when great film was created by truly gifted artists you should absolutely see this masterpiece.
January 7, 2020
Acting tremendous. Acting superb. This film was REAL. Fast moving emotionally. Language rough. A special movie which I saw three times; captivating each time!
January 7, 2020
Critics and Academy are full of it. This movie was great! We don't go to the movies too much anymore because Hollywood doesn't make that many I want to see anymore, but this was the exception...of course with Clint Eastwood's name on it, I expected as much. I haven't been in a while and was shocked at the price, but with the comfort of the new seating and sound you can actually hear, it's worth it. Since Luthersville, Ga., the place that gave this poor guy a shot after all that happened to him is the little town that I spent a lot of my growing up years, picture had a special connection for me.
January 6, 2020
Excellent movie.
January 4, 2020
An incredibly powerful movie with current resonance and far greater fidelity to the underlying facts than most movies allegedly "based on a true story."
January 3, 2020
What more can one say than another Clint masterpiece. Clint takes a page of history and shows what really happened and even suggest that the problems with the FBI today were likely in place a few decades ago. The acting in this film is incredible and this is what carries the film so powerfully. What comes away most powerfully and which is so disturbing is if Richard Jewell represented an isolated case we could sleep well at night but sadly, the truth is there are likely hundreds of Richard Jewell cases that we will never know about. This film is a thoughtful call to action of all Americans to take back American and question the basic assumptions of fairness in the media and at the Federal level of our most trusted institutions.