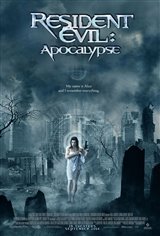 Resident Evil: Apocalypse
3.94/5
Based on 4949 votes and 137 reviews.
Please rate between 1 to 5 stars
Showing 51-60 of 137 reviews
September 24, 2004
well o.k. it won`t be winning an academy award any time soon but it was a really fun movie. some of the acting was a bit bad at times but it really didn`t detract from the experience. great movie for fans of mindless violence.
September 23, 2004
greal and awsome movie of the year i loved the action and it was the same as the game re3 nemesis loved milla coool go see it way much better then the 1st one
September 21, 2004
it didn`t really fit in. Didn`t base some details from the Resident Evil games
September 21, 2004
Do NOT listen to people who said they liked the first one better, cuz this one murdered the first one. The first one is for pansies. RE2 is the best zombie movie since "The Dead" movies. GO SEE IT!!!
September 21, 2004
it was unexciting and had lots of completely useless, cliche drama. If it wasn`t for the TO thing, i would`ve totally walked out.
September 21, 2004
I loved how they tip their hat to T.O.(even if i live in vancouver) anways it was very close to the first but needed better story and style...still the best action movie this year!
September 20, 2004
After all those natural disaster movies that destroy city after city, Toronto FINALLY gets its due! Well, you know what I mean. They made NO effort to hide the fact that it was T.O. (CN Tower, Nathan Phillips Sq., Bloor Viaduct) but that`s the problem... would a film pass off the Statue Of Liberty as something else? The whole movie was action-packed, but it was SO WEAK on plot, character development and acting ability. Milla is still great but everyone else dragged their heels. 3 stars. - Naughty Scotty
September 20, 2004
The first was good. This one was great. Lots of action and a better plot and character development than most zombie based movies. Try to watch the first one before seeing this one.
September 19, 2004
It was awesome! I loved this movie regardless of what others might think. Action packed movie!! I especially Milla..she`s superb!
September 19, 2004
AWESOME!!!! it was sooo good ...i loved every minute of it ... Amanda