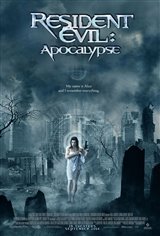 Resident Evil: Apocalypse
3.94/5
Based on 4949 votes and 137 reviews.
Please rate between 1 to 5 stars
Showing 11-20 of 137 reviews
August 25, 2005
Resident Evil Apocalypse was awesome, didn`t quite see the first one but im assuming its just as great. cant wait till the 3rd one comes out!!!!!!!!!!!
August 21, 2005
i think it was wikkid i can wait for RE3 i like it if there were more to come like 6
July 21, 2005
5 STARS for RE2.CANT! WAIT FOR! RE3!!!!!!!
July 13, 2005
THE FILM WAS WAS INCREDIBLY COOOLL.THE ZOMBIES AND THE NEMISIS LOOKS SOO REAAAAAAALLLLL!. MILLA YOU ROOOCK!!! you superstar. Alexander I CANT WAIT FOR RESIDENT EVIL 3
July 13, 2005
RE2 IS THE BEST MOVIE EEEEVER IN 2004 and 2005 i GIVE IT A 100 stars.IT HAS BEST HORROR, BEST, FIGHTING,BEST BAD GUYS,and most of all BEST CHARCTERS
July 12, 2005
whoaaa! this is better than Matrix BAD boys 2 and house of wax
July 12, 2005
THIS IS A VERY VERY VERY WWICKED MOVIEEE: HI IAM YOUR NUMBER 1 FAN:THIS FLIM IS BETTER THAN MATRIX BAD BOYS 2 AND OTHER ACTION MOVIES
June 19, 2005
HOLY GOD THIS MOVIE IS SOOOOOO AWSOME I CAN`T WAIT TILL THE 3 ONE COMES OUT!!!!!!!!!!
April 8, 2005
A good action film that was very entertaining to watch. You could tell it was Alexander Witt`s first time directing with so many fast cuts during the Alice/Nemesis fight sequence that you couldn`t tell who was landing a hit. Altogether, I thought the film was well done, but a better editing job on some of the builings in the city as the CN Tower can be seen twice. Being from around the area, it kind of ruined the fantasy that it was Raccoon City. But, enough complaining - great movie and can`t wait to see the third film. Please let there be a third.
February 14, 2005
I enjoyed the movie. But the ending when Nemesis started to help out it became very out of context that was not very real. I was really getting hyped up knowing that Nemesis`s was becoming real and that the minute that I heard his foot steps and his really loud roar I new he was coming, that is why I think I enjoyed the game with Nemesis sooooooooo much. BEST OF ALL IT WAS FILMED HERE IN T.O.!!!!!!!!!!!!!!!