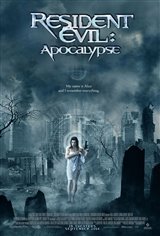 Resident Evil: Apocalypse
3.94/5
Based on 4949 votes and 137 reviews.
Please rate between 1 to 5 stars
Showing 1-10 of 137 reviews
February 8, 2007
this movie was pretty good:) i loved this sooo much and the third one is gunna be the best!! Hopfully sienna guillory is in the third
November 28, 2006
RESIDENT EVIL APOCALYPSE IS THE BEST FREAKING MOVIE E VER IT IS MY FAVORITE MOVE ALICE IS SEXY WHAT IS HER LAST NAME
September 4, 2006
THE BEST MOVIE EVER
May 14, 2006
excellent movie
April 28, 2006
Resident evil both the movies there great they have people all over toronto becoming zombies and i think that they should do the 3rd one here in Canada as well im making story about the fourth one and all see if it gets put to use ok milla , jill well i dont know there names but you all ROCK i love milla jovich .
March 27, 2006
perfect...... perfect
January 14, 2006
One word Beautiful.
December 4, 2005
Dude, best movie ever! It was soo awesome! Can`t wait for the next one! It was sooo wicked!
November 28, 2005
The thing is, unless you`re into Resident Evil or zombies in general, or surival/action, you will probably hate this movie. If you`re not into big explosions and snazzy effects, you`ll hate it too. But it`s a good flick (shows, since I actually bought the DVD) and it`s much better than the original RE movie. You shouldn`t expect to see that much depth to the characters though...they`re not there to be objects of literary pose, they`re there to get their butts out of an infected city before it someone tosses an atomic bomb on it!
August 25, 2005
RESIDENT EVIL IS THE BEST MOVIE EVER, JUST THE BEST, IT IS WAY BETTER THAN OTHER MOVIES IN IT`S CATAGORY LIKE THE MATRIX, AND MAYBE EVEN BAD BOYS 2. THIS MOVIE WAS GREAT, CANT WAIT TILL DA 3RD COMES OUT!