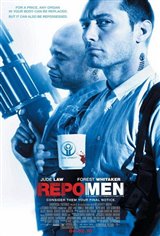 3.46/5
Based on 139 votes and 25 reviews.
Please rate between 1 to 5 stars
Showing 1-10 of 25 reviews
March 31, 2011
one of the dumbest movies ever made!! Jude Law, Forrst Whittaker and Liev Shrieber (SP?) ought to fire their respective agents for having them do this film. Complete garbage.
November 7, 2010
Repo Men: DVD Is this a window into the Quebec health system's future? But all worries aside, this film has everything: good writer, actors, plots and twists. It seems like this is a one-of-a-kind movie. Two days and I'm still moved.
August 5, 2010
Not a movie to watch while preparing dinner lol but other then that this was an alright movie
April 28, 2010
An entertaining movie, that went a little overboard in the climax, but made up for it with a unique conclusion. Decent, but flawed in many ways.
April 8, 2010
This movie honestly wasn't the greatest thing in world. The plot is too similar to Repo! The Genetic Opera. Though they had their differences, The Genetic Opera delieved what I expected from it while this movie did not. I liked the twist, I'll admit, but the events leading up to the twist were pointless and kind of stupid. Remy's (Jude Law) love interest was the most pointless thing in the world. She was just an excuse to get Jude Law shirtless (which I did't mind seeing, but still). They had no chesimsty, at all. If you still want to see it, I would wait for it to come out on DVD. I's not worth the full price you pay.
April 6, 2010
I didn't like it or dislike it. The script could have been better. The ending had a twist, I didn't see it coming.
March 30, 2010
Incredible movie. Simply loved it all. Lot's of blood, gore and amazing deaths. Really don't see how one of the raters walked out, they are just simply undeserving of good cinema. Very interesting ending. 5 stars.
March 28, 2010
Only liked the movie near the end, where the ending was actually a twist during the middle. Not a bad movie, but hey! It is filmed in Downtown Toronto, so 3.5 Stars for the movie!
March 28, 2010
Amazing movie lots of blood just the way its suppost tobe
March 25, 2010
Horrible, walked out of it actually. Couldn't have been less interested in the main characters, who gave a s**t if Remy(jude Law) succeeded, had a better life, went into sales, pleased his wife, payed for his heart, saved the human race. Boring sequence after boring sequence, with thee most unlikeable character since Julia Roberts played herself in Ocean's twaddle. Very predictable, and really felt embarrassed for the actors on screen, then for the audience and then myself for spending money on this. That's when i decided to leave. Managed to see Green zone, better but might have been a little more effective had it come out in 2002. Everyone knows for the most part why America invaded iraq f