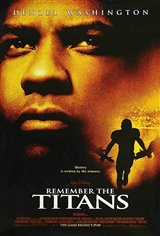 4.33/5
Based on 854 votes and 29 reviews.
Please rate between 1 to 5 stars
Showing 21-29 of 29 reviews
June 8, 2004
the movie was so good and ryan colsiing cute and handsome
February 20, 2004
Remember The Titans is such a wonderful movie...it teaches u soo much yet is still very heartwarming and funny....i don`t think there`s anyone who can say they don`t like this movie...if they do...there is something seriuosly wrong witht them
December 1, 2003
Remember The Titans was a excelerating movie. I was by far THE best story. The greatest part was at the end. Watch it!!!!!!
September 19, 2003
it was the best movie i ever had.
March 7, 2003
Remeber the Titans is my all time favorite movie it can get any better. i liked it so much because theres nothing like it, its origanial
June 3, 2002
This movie was great. The best part was ryan gosling. I know he only had a small part but he is just so unbelievably hot! I LOVE RYAN GOSLING!
March 29, 2002
This movie was amazing. Its too bad that Denzel Washington didnt`t win best actor for this movie. It also should have been nominated for best picture. Overall, my all-time favourite movie.
January 26, 2002
it is my favorite movie i watch everyday
January 11, 2002
This film is an engrossing, warm, and fairly realistic of 1971 high schools in the South. I remember the days of fearing to shake the hand of a black person, but my students do not. I`ve shown them the film and it led to a great discussion of multicultural awareness and the character it took to right the wrongs of the pre-Civil Rights days. I recommend to anyone who has heart and hope for a better society.