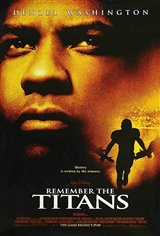 Remember the Titans
29 Reviews
|
Write a Review
In Theaters: September 29, 2000
4.33/5
Based on 854 votes and 29 reviews.
76.67%

8.13%

0.92%

0.26%

14.02%
Please rate between 1 to 5 stars
Showing 11-20 of 29 reviews
March 17, 2006
I think this movie is very good for the people who didn`t like blak men or white men...and it`s a good movie because in this movie they have good and handsome boys! bye! lil_kim!:)
February 9, 2006
It was Denzel Washington`s best movie!!!
October 6, 2005
IT CAN BE ASSUME AS THE MOST INTERESTING FILM I EVER WATCH!THE SCRIPT IS COOL!WELL, I NEED TO KNOW MORE ABOUT COACH BOONES CHARACTER.
July 26, 2005
I think that it was great wish them the best and specilly you ryan, I want two say that keep up your good looking (cuttie pie)!
February 3, 2005
Everyone should watch it..GO!
January 11, 2005
it was suCh an Awesome movie!! they chose great actors, and the fact that it was based on a true story made it that much better!!
November 11, 2004
rember the titans the movie rocks
August 9, 2004
I love it! I love it! This was the best movie I`ve ever seen!!!
July 5, 2004
oh my gosh where to start...lets just say i know all the lines and it was a great movie!! i cried the first time i saw it... aww and ryan goling [alan bosley] is so cute and such a hottie, aww this is an awesome movie...especially the whole ryan parts. he he he
June 25, 2004
It`s awsome! It is a true story and it help people understand how life was before our time, there was no such thing as equality just skin colour.