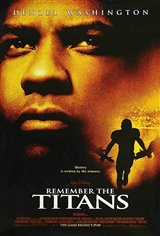 4.33/5
Based on 850 votes and 27 reviews.
Please rate between 1 to 5 stars
Showing 1-10 of 27 reviews
February 19, 2021
This Film is so Unbelievably, undeniably incredible! They really Should up the ratings for this movie because I want to give it 1000 stars! All the players are very attractive (is it just me or is Kip Pardue just adorable on this movie?) So many good quotes & Scenes to remember. Never gets old!
February 17, 2021
I love this movie so much!! I love all the characters. Sunshine and Allen were my favorites.
February 17, 2021
The movie is incredible. The acting was awesome, and I would love to see what comes next for the characters.
August 28, 2007
the best movie
February 24, 2007
Growing up in "Northern States" in the pre 1971 era, I really did not know what "race hate" was all about. Civil Rights was the law of the land when I was a kid and our school system was always integrated. I graduated from High School in 1974 and our High School had a "winning" football team, so this film is something to which I can relate. There were only 4 or 5 blacks in our High School Graduating Class of about 300 kids but 2 of the 6 years we were together we had one Black class officer. Blacks were always allowed on the school sports teams. If anything, the slow, fat white guys got laughed at and humiliated. When I left Colleg
September 29, 2006
This movie is the best.
September 20, 2006
OMGSH, I LUV DIS MOVIE
March 27, 2006
Although this movie really made me very upset at the beginning. It was suprisingly a excellent movie that gave an insight of how things were like then. I love the way that the coach Boone and thrfootball team, though it was hard, was very sucessfull in pulling both races together.
March 17, 2006
I think this movie is very good for the people who didn`t like blak men or white men...and it`s a good movie because in this movie they have good and handsome boys! bye! lil_kim!:)
February 9, 2006
It was Denzel Washington`s best movie!!!