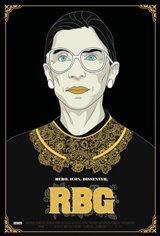 4.19/5
Based on 32 votes and 11 reviews.
Please rate between 1 to 5 stars
Showing 1-10 of 11 reviews
September 26, 2020
Other than the political idiots comments, A wonderful film of a humble, gentle giant of ethics & morality. It was moving to see such admiration & respect for a person of such honor. Documentary had many film footage/clips/interviews of her personal & professional life with many funny moments. Contrast with what you usually see, A film of a person with such dignity I found very uplifting & enjoyed very much. You will fall in love with the "Notorious" RBG :). I hope to go see it again. ( A docudrama, "On the Basis of Sex" with Felicity Jones as RBG in 2018 was also a very enjoyable movie). RH
July 9, 2018
Great insight into a great person! What an interesting life!
July 1, 2018
Slammin' hip hop soundtrack will have audiences kickin' it in the front seat or the back.
June 30, 2018
Just ok as a movie-not sure the story was interesting enough to pay the cost of a ticket.
June 12, 2018
If only it had been made by a neutral director. She had a great story to tell, to bad it was "mistold" by CNN
June 10, 2018
Accurate, funny, witty and historically accurate. RBG (herself) is inspiring. This movie is a real upper in a time of tension and chaos. One of the best films of any type that I've seen in a long time.
May 28, 2018
Notorious RBG proving good things come in small packages. Inspirational!
May 28, 2018
very well documented excellent film.
May 26, 2018
Quite possibly one of the most destructive forces on the SCOTUS. Her rulings have done nothing but hasten the decline of civilization.