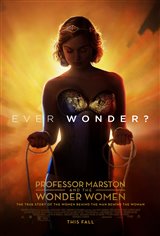 Professor Marston & the Wonder Women
| 5 Reviews
Write a Review
In Theaters: October 27, 2017
On DVD/Blu-ray: January 30, 2018
R | Drama | 1h 48m
3.22/5
Based on 22 votes and 5 reviews.
Please rate between 1 to 5 stars
Showing 1-5 of 5 reviews
February 2, 2018
How could they deface an American hero!!! Wow winder woman was a hero for a lot of women and now they define her this movie sucks
November 12, 2017
Finally, a movie for adults ... about adult behaviour. The director, Angela Robinson is being criticized for her "interpretation" of events of this true story. If you need more info, consider the book: The Secret History of Wonder Woman by Jill Lepore ... I am getting a copy from my local library tomorrow.
October 22, 2017
"According to Christie Marston, "both the depiction of the family and Wonder Woman's origins are made up." Christie Marston is a grand daughter of Professor Marston. She grew up in and around that family and she calls the movie trash! Robinson who made the movie purposely didn't elect to interview ANY of the living family...."Because I wanted to get my OWN take on this"...and that is exactly what she does. Salacious, perverted, twisted...that's her take. I am old enough that I would have recalled Wonder Woman Comics being rounded up and burned. I assure you...nothing of the sort happened. The whole movie is a Left Wing Progressive LGBTXYZ's wet dream as to not how it was, but how they WISH it was. And Olive never wore a "Wonder Woman" dominatrix costume at any time in her life. I call foul on this one. It didn't hit one out of the park...it hit any sane viewer between the eyes who may have been sitting in the right field bleachers. Do not waste your money on this drivel. Christie Marston has been writing an ACTUAL account of these events. Wait for her book. And she as well as Lynda Carter AND Gal Gadot have talked...and with all of them, this movie is three thumbs down!
October 15, 2017
I really enjoyed the movie. I had no idea about the background of Wonder Woman and its creation. An amazing story. One of the few movies I'd see again and I go to movies on a weekly basis.
October 13, 2017
Yuck. Time period piece twisted to be a lesbian love story. Everything that kids enjoyed perverted for Hollywood's entertainment. How about writing something original without rewriting history every time? Garbage.