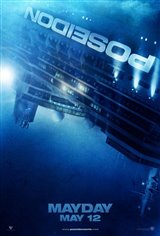 3.69/5
Based on 1642 votes and 317 reviews.
Please rate between 1 to 5 stars
Showing 11-20 of 317 reviews
August 24, 2006
Good remake, similar disaster as the original but different storyline/characters/action. To truely appreciate the complexity of making this movie, I strongly suggest you watch "The Making of..." part on the DVD. One scene used 100,000 gallons of water. ****
August 21, 2006
Well I think the original Movie was the best! The actors in the original movie also made it the best! The scenes and the photography in the original was fantastic!, especially the last scene showing the airial view of the bottom of the Poseidon! Remakes of original movies really don`t cut it, the original is always the best!
August 20, 2006
Another re-make that doesn`t manage to hit the high mark of the original. Quelle surprise. And it was all the more disappointing because I was forced to watch Kurt Russell, one of my action favourites, reduced to a wet guy with a scared look on his face. The effects in this flick upstaged the actors, who were left to scream and gasp and utter really stupid dialogue. Yawn.
August 20, 2006
Not as good as the original
August 20, 2006
I really enjoyed it.
August 20, 2006
Thanks to special effects
August 19, 2006
certainly good for the rental list
August 18, 2006
I kept comparing it to the original, missing Shelley Winters all the while. The newer version was touted as a blockbuster but for me it just fizzled. T
August 17, 2006
good entertainment
August 17, 2006
A perfect summer blockbuster: great disaster flick, good cast, dramatic and wrapped up in 90 minutes.