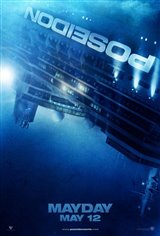 3.69/5
Based on 1642 votes and 317 reviews.
Please rate between 1 to 5 stars
Showing 1-10 of 317 reviews
May 14, 2007
My favorite movie movie of all time
October 16, 2006
Jacinda Barrett is gorgeous, that`s it
October 2, 2006
AWESOME!!! SO TENSE AND KEPT YOU TO YOUR SEATS but i alittle bit hollywoodish...... sime stuff there wouldn`t happen in real life, but overall good movie
September 17, 2006
NON STOP action...Loved it!
September 1, 2006
Josh Lucas has a future, kurt russel is history. The movie was bloody briliant. there was so much action, excitment, and ....... DEATHS! not worth renting worth buying.
August 30, 2006
I really have to agree with a lot of other comments here. The original had more substance because of the ACTING. This is not to downplay the ability of the cast of this remake. They were believable enough, but I had a hard time connecting with them as well. Overall I gave it 4/5 stars
August 28, 2006
IN THE ORIGINAL MOVIE YOU HAD GOOD "ACTING"! AND THE ESSENCE OF THE MOVIE WAS THERE!!!...BUT IN THE NEW VERSION YOU HAVE THE SPECIAL EFFECTS AND THE SOUND, BECAUSE OF THIS TWO THINGS I LIKED THE MOVIE! I WAS VERY VERY TENSE! AND BY MOMENTS VERY IMPRESSIVE! (I GAVE 3 STARS)
August 28, 2006
I should have really liked it BUT the tidal wave happens quickly leaving no time for character development...you weren`t routing for them because you didn`t know them. There are a couple of lame moments in the storyline..I can`t say because it will spoil the movie but they were so lame that it made the story totally unbelieveable. Once I learned that it was the real actors doing the real stunts, I had more respect for them...it was just the storyline. I felt "The Perfect Storm" had a much more developed story and it was the better movie.
August 25, 2006
This Movie takes you to the Top, then slam-dunks you with hight energy characters who you want to care about throught-out the entire movie. And they get this point accross. I enjoyed the re-make of this motion picture. Would have been more exciting if they added a shark or two in some of the underwater scenes. However would buy it on DVD.