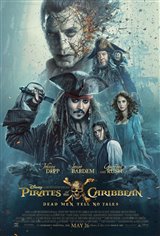 Pirates of the Caribbean: Dead Men Tell No Tales
| 94 Reviews
Write a Review
In Theaters: May 26, 2017
On DVD/Blu-ray: October 3, 2017
3.7/5
Based on 364 votes and 94 reviews.
Please rate between 1 to 5 stars
Showing 1-10 of 94 reviews
March 2, 2018
It has a lot of funny scenes and the visual side is beautiful but the director didn´t pay much attention to the canon established in previous movies. It could be perfect if it wasn´t in contradiction to them in more than one thing. The new characters are likable and the main villain is exactly the ghostlike type for the movie like this.
February 2, 2018
It´s hard to rate this movie. It has nice mythology and not overcomplicated plot again, like the very first, but it doesn´t fit in with the previous movies. Jack gave his compass away several times in the past and nothing happened. One could say he didn´t really give it up for good, only lent it, therfore it doesn´t count. OK. But Black Pearl was lifted from the bottom of the sea by Davy Jones for Jack and he was a captain for 13 years, then Kraken came for him. Also the compass was given to him by Tia Dalma (Calypso). If the filmmakers considered the previous stuff and made the movie in relation to the previous ones, it would be better. I like the new characters, the boy is cute and the girl is not trying to kick everyone´s ass but wins through her intelligence, which is better than all Catwomen and Laras. But the dissonance with previous movies is annoying. I also miss more characers from the past like Cotton with his parrot or Pintell and Raghetti.
October 9, 2017
Great way to reboot the franchise!
October 4, 2017
Didn't finish watching it. Boring.
September 8, 2017
Such a waste. Please don't kill the franchise
September 7, 2017
Really good, a lot better than expected
August 28, 2017
Amazing movie!!! So happy to see so many members of the original cast and thought the plot was really interesting. I never get tired of this series!
August 15, 2017
It was fun and I enjoyed the story line! However I'am not sure 🤔 that we need another Pirates movie. Maybe a bit overdone!
August 7, 2017
I really liked it a lot. 4 stars
August 5, 2017
Certainly delivers on the usual Pirates of the Caribbean theme ... there was a pointless but interesting cameo by McCartney. J.Depp was average in his acting, but movie was entertaining.