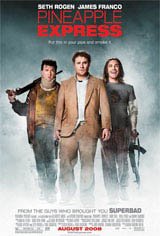 Pineapple Express
131 Reviews
|
Write a Review
In Theaters: August 6, 2008
3.62/5
Based on 858 votes and 131 reviews.
45.51%

18.58%

5.88%

12.38%

17.65%
Please rate between 1 to 5 stars
Showing 1-10 of 131 reviews
January 3, 2011
James Franco's character is soo funny!!! Really entertaining!
October 13, 2009
It's Funny
March 2, 2009
This movie was hilarious...i think that james franco should be in more comedies...him and seth rogen r great 2gether
December 15, 2008
I saw this in IMAX during its original release a few years ago and it's really become a family favourite. The animation is great and the film is already a classic.
December 7, 2008
WHo are you people bashing this movie? Were any of you born after 1970? This is not just for 'brain dead males' I'm a 27 year old intelligent female and I LOVED EVERY MINUTE of this hilarious f-ing movie. Sure, it drags a bit in the middle but who would turn up to a movie called 'Pineapple Express' starring Seth Rogan and James Franco, expecting this years Oscar winner? Me neither. It's so funny I cried.
November 15, 2008
Freaking hilarious. My sides hurt.
November 9, 2008
its garbage it also has violence.
November 2, 2008
so damn funny i loved every min of it
October 2, 2008
This stunk so bad I may not go see it again.
September 30, 2008
really funny movie anything with seth is amazing...really good not quite superbad but still worth seeing, especially if you smoke pot