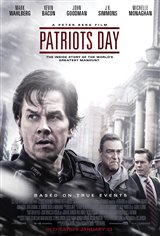 Patriots Day
| 31 Reviews
Write a Review
In Theaters: December 21, 2016
On DVD/Blu-ray: March 28, 2017
4.48/5
Based on 80 votes and 31 reviews.
Please rate between 1 to 5 stars
Showing 1-10 of 31 reviews
August 18, 2017
I saw this in theatres. Made me want to try. I started to tear up. I found this was better than Berg's Deepwater Horizon. Not sure why Peter Berg did 2 movies like that back to back and starring Wahlberg, but this was the better for the two. Deepwater was an accident waiting to happen. Patriots Day is an attack and truly showed the city and region coming together and even giving up their civil liberties (curfew) to track down the culprits and FAST! True story and wow. And again the obligatory pictures and bios at the end made me tear up. Real people whose lives were ruined by a senseless act while cheering on healthy people who have a goal to run a marathon. I even felt sorry for the terrorists' kids!
April 15, 2017
Very good movie, a must watch
March 24, 2017
Wow. This movie shocked me. Being a Canadian, I tend to be a little skeptical of these movies only because I'm not a fan of American propaganda; waving the giant stars and stripes in your face etc. This movie killed me emotionally. To feel the pain of the victims of this horrendous and disgusting terrorist act made me want to fight alongside the citizens and police of Boston. The acting was brilliant. Wahlberg, as always in my opinion, delivered an excellent performance. He's such an underrated actor and, like DiCaprio, deserves a lot more accolades. Incredible story, incredible acting, incredible emotion. I had to fight the tears and anger watching these two delusional maniacs wreak havoc and pain on the beautiful city of Boston. A must watch.
February 10, 2017
wow Hollywood makes movies out of every thing i but a lot of this movie is fabricated
January 28, 2017
WOW! What a brilliant portrayal of events is a tough moment in our history! Hard to watch the carnage but necessary.
January 25, 2017
Great movie to see with these famous Actors Mark Wahlberg, Kevin Bacon, And John Goodman just love when they searching for these bad guys in the city of Boston at the end a true story of the Boston marathon bombing. Must see.
January 24, 2017
Very realistic and captivating! Mark Walberg is one hell of an actor.
January 24, 2017
Very good very intense you're in for one hell of a ride
January 24, 2017
Based on the News Reports I recall this was a very realistic portrayal for the most part. I just wonder if the shootout scene and the boat capture scene weren't a little over the top as compared to how the real events went down?
January 21, 2017
Unbelievable!! One of the best movies I have ever seen. I'll never forget that shootout scene in the neighbourhood or the interviews and pictures at the end. I never cry at movies but boy I just couldn't prevent myself at this one. Powerful.