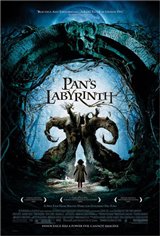 3.23/5
Based on 3361 votes and 171 reviews.
Please rate between 1 to 5 stars
Showing 1-10 of 171 reviews
December 31, 2021
Overhyped nonsense. The characters act more retarded than in B horrors. The only good thing about this movie is the visual side.
February 28, 2018
I´ve never seen so overrated movie with so many stupid plot holes like this one. I don´t get the hype, I don´t get the amount of people who liked it and I think it´s more about jumping in the bandwagon with critics than about true opinion of these people. The movie has almost no plot and even this almost non-existing plot has uncountable number of holes.
February 27, 2018
Spoiler alert!!! There´s a big hype about this movie where I live (Czech Republic) and I honestly don´t get why. The mix of war movie with fantasy is quite weird in itself but it´s still more bearable than many nonsenses in the plot - like why the Hell Mercedes didn´t kill that evil soldier when she had enough time to make him Jokerface, why was Ophelia, who is about 12 or 13, stupid like 5 years old (only total retard could wake up that Voldemort after many napalm attacks), why her mother was married to that evil soldier, why Ophelia wanted to escape from horrible, violent, creepy real life into even more horrible, violent, creepy fantasy world? Many scenes feel forced, they are there for the sake of being there (for violent and creepy stuff, to be more specific). The visual side of the movie is creative, the labyrinth looks mysterious and creatures have original design. But the amount of violent and scarry scenes puts this movie strictly out of the children-friendly zone, while in the same time the title character is a child, extremely naive and stupid for her age, so I wasn´t able to create a bond to this character. She´s obviously a girl who went insane from the trauma caused by war. This might explain why her fantasy world is as ugly as real life - her traumatised mind can´t create nice things. Her death was supposed to be shocking because "OMG it´s a child!!!" but Twohy was killing kids since Pitch Black + he was able to offer much cooler and more interesting characters and black humour. And Pitch Black was certainly more child friendly than this movie, while it wasn´t supposed to be for kids at all.
July 7, 2011
fantastical..........still average but fairly well done and don't take the children
July 7, 2011
gReAt m0vIe `
November 23, 2009
Average. It's not the masterpiece some have made it out to be. The fantasy elements are quite well done, but most of the movie takes place in a realistic setting that is rather formulaic at times. It's further hampered by poor characterization. Oddly enough it's the non-fantasy characters who are weakest, and come across as two dimensional and lacking any real depth other than being heroes or villains.
March 28, 2009
best movie ever
December 15, 2007
a very good movie it was very imaginetive the gore is very realistic.The tale has a dark twist to it which makes the film tense and scary.
November 2, 2007
It gave me chills. It made me cry. I couldn't stop thinking about it for a week. Oh my God, this movie was amazing. This was the first Spanish movie I ever watched, and I thought it was amazing. The music, the creatures, and everything was just /so/ good.
August 2, 2007
Awesome movie flat out.