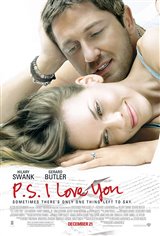 P.S. I Love You
95 Reviews
|
Write a Review
In Theaters: December 21, 2007
4.16/5
Based on 884 votes and 95 reviews.
67.43%

11.93%

4.59%

1.38%

14.68%
Please rate between 1 to 5 stars
Showing 1-10 of 95 reviews
July 24, 2008
Love it! Especially married couples will love it! Mr Butler is SEXY!
June 30, 2008
Gerard and Hillary have great chemistry together. You really feel for Holly throughout the whole movie. I cried, I laughed, I empathised, I giggled. What a wonderful movie for both sexes. Some men should take a page from this story and learn how to properly romance their women. Bravo, brava, bravissima!!
June 24, 2008
this movie was great
June 24, 2008
I don't understand how you people are mostly writing good things about this movie. This was probably the worst waste of time in my life. Did I see the same movie as you people? The story was too slow, too cliched, and too boring.
June 4, 2008
I cried throughout the movie then I cried myself to sleep because my wife wouldn't let me fastforward any of it. If your life likes giant guitar playin'lepercauns with an Irish accent, this movie is for her. 3***'s.
May 24, 2008
Very Touching movie, I cried four days AFTER watching this film just thinking about it...
May 23, 2008
Absolutely loved it!
May 17, 2008
loved it, i cried. Good movie
May 15, 2008
very good i really enjoyed it
May 1, 2008
I loved this movie! Saw it 3 times in theatre, and planning on buying it first thing Tuesday morning. I cried each time, but it's just so damned good!!!