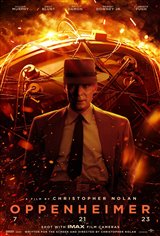 3.96/5
Based on 292 votes and 108 reviews.
Please rate between 1 to 5 stars
Showing 1-10 of 108 reviews
September 22, 2023
Interesting movie to watch. I thought the sex scenes were unnecessary though and the bomb explosion was beyond lame. The lousy special effects on that was why I deducted a star. They had to try and make up for it with loud noise instead.
September 21, 2023
This is the fastest three hours I've ever experienced. A cerebral siege and orgasm, Have come back to see it 7 times. Can't get enough. Masterpiece. Except nudity during interview sequence. Didn't need it. Otherwise flawless. Kaboom MF. p.s. Folks who said it was long and boring… stop eating paste. You're a grown-up now
September 9, 2023
There is no cure
September 9, 2023
Very long movie. The person in front of me got bored and went on his phone (the light from which was annoying). And sometimes, especially in the beginning, the speech was indecipherable -- I wished for subtitles. Oppenheimer seemed such a virtuoso, the only thing missing was a dance scene. The female characters could have been fuller -- Jean Tatlock especially. It wasn't clear in the movie she was a psychiatrist.
September 2, 2023
absolutely one of the worst movies i have ever attended. Big time boring !!!
August 30, 2023
Flawless technique and performance wise. A masterpiece. SEE IT
August 30, 2023
The best movie of the year not eligible to win Best Picture.
August 30, 2023
Very informative. Lots of twists and history to remember
August 28, 2023
I left the theater speechless. I already knew much of the story. I have read several books on the development of fission and thermonuclear bombs. This film is a magnum opus. It may be one of the best films I have ever seen in my life and I am 76. Go, watch it. If you don't follow all of it the first time, go again. For good, or bad, it is a part of all of us.
August 28, 2023
Very interesting and well done