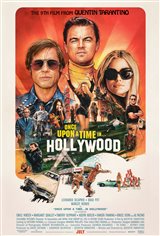 Once Upon a Time in Hollywood
430 Reviews
|
Write a Review
In Theaters: July 26, 2019
On DVD/Blu-ray: December 10, 2019
3.37/5
Based on 1322 votes and 430 reviews.
49.39%

8.70%

3.83%

5.74%

32.35%
Please rate between 1 to 5 stars
Showing 421-430 of 430 reviews
July 26, 2019
best Tarantino movie thus far
July 26, 2019
A complex film, struggled through the first half, classic Tarantino in the second. Could have tightened it up to two hours would have made it better.
July 26, 2019
Worst Tarantino film ever.... Soooo boring and pointlessly long. Bout 20 mins of actual entertaining watch, the ending and Bruce lee fight. The rest was total garbage. So let down by this film, don't waste your money wait for dvd...👎👎
July 26, 2019
great dialogue, fantastic acting
July 26, 2019
This will be the first Tarantino I don't see more than once. Some good moments but really could have used 56 more minutes hit the cutting room floor. Too long a story for an anti climactic finish. Also weird that the Manson family murders are even in here. Save your money. I think he lost perspective on this one.
July 25, 2019
Terrible. No plot and poor acting. Big disappointment
July 25, 2019
person below, FYI: there is such a thing as advanced screenings, you ever heard of them.
July 25, 2019
FYI people, You are not supposed to review a movie until you see it!
July 20, 2019
Finally, a real non blockbuster, non - phoney real movie. Thanks Q.
March 5, 2019
cant wait for this.