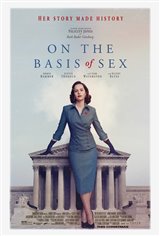 On the Basis of Sex
| 35 Reviews
Write a Review
In Theaters: January 11, 2019
On DVD/Blu-ray: April 9, 2019
PG-13 | Drama | 2h 0m
4.1/5
Based on 104 votes and 35 reviews.
Please rate between 1 to 5 stars
Showing 1-10 of 35 reviews
October 7, 2020
Great to learn about the life of RBG. Every woman should see this movie and learn what she has done for our gender.
September 24, 2020
Boring movie - got up and left half way through it
March 20, 2019
A wonderful portrait of a true America (s)hero! A chapter of history that everyone should be taught.
February 7, 2019
Well told story. Realistic portrayal of the times, especially on how society viewed what the role of women should be in the academic, social, and business world. The movie effectively reflects RGG's transition from a supportive wife to a capable, self confident lawyer and jurist of extraordinary intelligence in the face of obstacles from many sources. Th factual portrayal is understated leading to a climax that is dramatically explosive as she fully asserts herself . The epilogue depicts her many accomplishments.
February 6, 2019
I thoroughly enjoyed it. It was well acted. The script was well written. The choice of actors was superb and plausible. Unfortunately, I'm not sure the action adventure crowd will go for it. No explosions or wise cracks just a well told true story. Bravo!
February 6, 2019
As far as movies go, it is well made with few if any flaws. This is unfortunate, because future generation will judge RBG by this movie. She is no heroine and does not deserve this kind of acclaim.
February 1, 2019
Outstanding, best movie of 2019. The only people who would not like this movie are the uneducated people who still support pathological liar Trump first, Russia second and the USA last
January 31, 2019
Watch the CNN documentary on Ruth Bader Ginsburg. She accomplished more than so many in her lifetime.
January 31, 2019
The guy who wrote that Ruth is no hero should get a reality check on life. He is ignorant beyond words. What she has done for women has been absolutely amazing. I guess it depends on how much a person respects women
January 31, 2019
What an amazing movIe