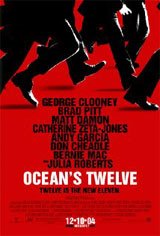 Ocean's Twelve
180 Reviews
|
Write a Review
In Theaters: December 10, 2004
3.81/5
Based on 9606 votes and 180 reviews.
63.88%

2.85%

6.18%

4.17%

22.92%
Please rate between 1 to 5 stars
Showing 1-10 of 180 reviews
October 10, 2011
One of the best sequels ever!
July 18, 2009
Best one yet!!!
October 14, 2006
The problem with Ocean`s Twelve was that everyone was expecting something amazing because the first one was amazing. But this one was just not half as good. The cast was the same, but I just did not like it.
August 15, 2005
Signs that this will be an awful move: 1) The directing makes you seasick. The cameraman must have been having constant seizures throughout the filming. 2) Oceans 11 was already a remake of a Brat Pack movie. Hello? You have the gall to make a sequel to REMAKE? 3) Julia Roberts plays a woman pretending to be Julia Roberts. And she still can`t act the part.
June 16, 2005
So bad! The previews don`t LIE!
May 28, 2005
This movie (if you call it that) is probably the worst I have ever seen. The cast was there but it goes to show even your better actors and actresses can`t save a poor picture. The music and sound was terrible it seemed the loudest when dialoge was taking place. The negative comments here are good descriptions about this so called movie. 64& rate this a (5)? Who is kidding who!
May 26, 2005
Oceans Eleven Was way better than this one but it was still a good movie
April 25, 2005
Good movie, but not as good as Ocean`s Eleven.
April 18, 2005
not bad, not great, the first one was better.
April 11, 2005
Great Movie!!!!!!!!!!! One of the Best! Brad Pitt was great! As usual!