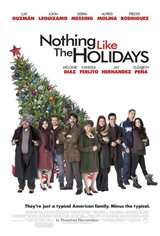 Nothing Like the Holidays
12 Reviews
|
Write a Review
In Theaters: December 12, 2008
2.96/5
Based on 47 votes and 12 reviews.
21.74%

13.04%

26.09%

17.39%

21.74%
Please rate between 1 to 5 stars
Showing 1-10 of 12 reviews
November 24, 2009
Wonderful, Hilarious
November 7, 2009
One of the best movies I've seen in a long time! Not your typical hollywood movie. Need more movies like this. Would highly recommend.
January 30, 2009
Nothing like it should have been
January 9, 2009
Excellent, solid movie. Nothing over the top, but good strong performances from everyone. I felt full when I left the theatre.
December 24, 2008
HORRIBLE MOVIE! Four Christmases was way better. Had to leave mid-way through. Very disappointing...
December 21, 2008
Enjoyed it more than four christmases, elf or fred claus.
December 14, 2008
Enjoyable. A pretty good storey line with a few laughs along the way. Shows that families have their good times & bad along the way. Debra is a bit of stiff, but the rest of the cast was good.
December 14, 2008
My friend and I went to this movie last evening, we were expecting a comedy/or just a few laughs. Not only was it not a bit funny but there was no story line at all. we were soooooooo disappointed!!
December 13, 2008
it was alright.nothing special. it made me laugh once thats it. 3 stars only because it felt like a real family going through real problems.Beebs
December 12, 2008
I liked it! Family movie. It's funny and real. Freddy Rodriguez did a good job.