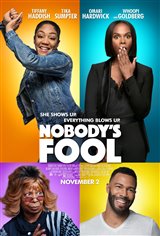 Nobody's Fool
| 19 Reviews
Write a Review
In Theaters: November 2, 2018
On DVD/Blu-ray: February 12, 2019
R | Comedy | 1h 50m
3.53/5
Based on 66 votes and 19 reviews.
Please rate between 1 to 5 stars
Showing 1-10 of 19 reviews
February 12, 2019
What a waste of time. Ridiculous and certainly not funny, why anyone would think Haddishs screaming thru every scene is entertainment. The acting or lack of was disappointing. Not Perry's best effort. 0/10
December 23, 2018
The movie plot was good. It just had to much cursing for me.
December 10, 2018
Terrible! poor acting, too much vugular languish, and unnecessary sex.The only redeeming actor and character was Whoopie Goldberg. Tiffany you don't have to take these kinds of roles that degrade your self and your people. Money isn't everything, you CAN do better! Tyler you have made your Money!, It time to produce some quality movies that uplift your people, you CAN do an academy award movie, you got the talent and money! DO IT!
December 5, 2018
Terrible movie. I had to walk out ; too much sex and nudity and vulgarity. Awful exposure. Disgrace to black race. This is not typical black culture and it was embarrishing. I find this a lot with Tyler Perry movies. Degrading behavior. Movie not acceptable.
December 1, 2018
very funny the actors were awesome
November 24, 2018
Terrible. Disappointed in Tyler Perry this time. Too much foul language and nudity. I will not recommend this movie. It was not funny, just crazy!
November 15, 2018
One of the worst movies I've ever seen. I think Tiffany Haddish is funny, but not in this movie! No one was laughing in the theatre I was in. I'll keep an eye out for movies directed by Tyler Perry and make sure I avoid them from now on.
November 14, 2018
There was A LOT of unexpected sexual scenes; however, I laughed OUT LOUD throughout the majority of the movie!!! I don't think Tyler Perry is capable of making a bad movie. Be sure and stay for the outtakes at the end of the movie! LMAO
November 13, 2018
I will see this movie again.