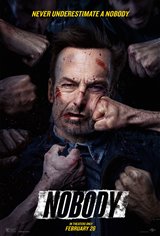 4.42/5
Based on 40 votes and 15 reviews.
Please rate between 1 to 5 stars
Showing 1-10 of 15 reviews
October 7, 2021
Great action Thriller we've seen in quite a while. We were especially amazed by young actress in the scene that played the karaoke singer. She stood out & was great, but none of remembered he from previous movies as we did the other actors.
July 31, 2021
One of the best movies I've seen in a long time. Finally a film with some not-so-typical events/scenes. Some fresh stuff and very enjoyable.
July 7, 2021
keeps you interested the whole time
May 22, 2021
This is an interesting and fun film for its type, definitely see this one.
April 26, 2021
If you like the John Wick movies, you'll love Nobody. Hope they make a sequel!
April 21, 2021
It's your typical action movie. Watching the character go from calm business guy to killing everyone was pretty cool. They had some really cool scenes. Otherwise, it's your stereotypical action movie of cheesy one-liners and just overkilling everyone.
April 20, 2021
We loved this movie! It was fresh lots of action and likable hero!!
April 17, 2021
I always enjoy Bob Odenkirk! He has a way of mixing a serious situation with humor! We specifically chose to see this film because of him and he did not let us down.
April 15, 2021
This movie got off to a slow start but quickly evolved into a fast paced slug fest that didn't let up. Definately John Wick meets double tap stuff here!
April 10, 2021
The movie shows the "nobody" as an average dull 8-5 blue collar guy. Then he turns into Clint Eastwood/MacGivers child and takes out the bad guys.