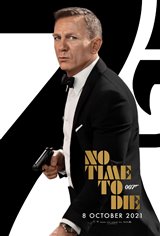 No Time to Die
| 56 Reviews
Write a Review
In Theaters: October 8, 2021
On DVD/Blu-ray: December 21, 2021
3.8/5
Based on 162 votes and 56 reviews.
Please rate between 1 to 5 stars
Showing 21-30 of 56 reviews
October 31, 2021
lea seydox so cute and my life ,and movie is good
October 30, 2021
Nothing against Billie, she's not a James. James Bond Theme song Artist. One of the things that draws me to a film, is the music/artist. "Live & Let Die"/Paul McCarney & Wings. Most of the traditional James Bond "music" not there. Which could be, the reason, it's not a Box Office smash. Spoiler alert, James Bond may Not return? As ending displays.
October 29, 2021
Poor script for some very good actors. Lousy cinematography. Trying to be woke ruined a good character.
October 29, 2021
Bond Title Songs used to be classy and catchy, but these last couple have been bland and entirely unmemorable. Please do better next time...
October 28, 2021
This felt like a real movie not a 007 Bond flick. Watching it you feel like you knew the various scenes from previous Bond films so it felt quite familiar in a fresh kind of way. Casting blonde Maddie his girfriend reminded me of the Sean Connery 007,scene on the beach in Thunderball? ,and Craig resembled at the rnd my favourite Bond overall...Mr Connery ! The intro music added a new vibe smd set the tone Imo, I wstched it in AVX and it sounded great, however the ending song was lame, Bond theme would have been perfect. Just go see it...with a beer even better.
October 24, 2021
I tried real hard to like this movie. I had almost 3 hours to try to like this movie. I wanted Bond, the Real Bond. The guy who flirted, got the best looking girls, made small comments that was funny at times and a great escape ending. Instead I got a bond that had a girlfriend that had his child with everyone running away from danger all the time. The ending made me ask myself one question. Did I buy a ticket to a Lifetime Movie?
October 23, 2021
Say for me again...road trip. S N L give me one word singer
October 23, 2021
I agree with most of the others that XXXXXX (spoiler) will be the death of the series, however a female might give it a boost. Lots of action. It's good that he had a daughter and that's where a woman might be a good idea. I don't like the current 007, she has little personality.
October 22, 2021
First, Daniel Craig did a great job and is in my opinion the 2nd best James Bond. Did not like the idea of Daniel Craig leaving the series but time catch's up to us all and it was his decision to leave. Idea of replacing 007 with a female is absurd. Read the books!
October 21, 2021
It completely lost me when I realized the film was actually ripping off plot from the last Austin Powers movie! So lazy and ridiculous!