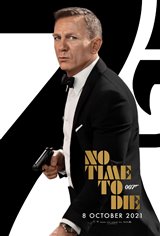 No Time to Die
| 56 Reviews
Write a Review
In Theaters: October 8, 2021
On DVD/Blu-ray: December 21, 2021
3.8/5
Based on 162 votes and 56 reviews.
Please rate between 1 to 5 stars
Showing 1-10 of 56 reviews
March 1, 2022
If you remove all of the words 'Bond' and '007', one could not guess this was a Bond film. No one beats Sean Connery. Very blah film.
December 21, 2021
Craig's last bond performance was awesome besides having the woman take his number this is a very well done bond movie
December 13, 2021
Daniel Craig was the best. James Bond left the building with him.
December 10, 2021
The lead female black actress who, temporarily replaced Bond as agent 007 was a poor choices hard looking for the role. We used to have glamourous ladies and slid in the last two movies including Bond's gf, Was the choice premeditated to appease ethnic groups to shake the martini? The jury is out. The theme song was the worst in the franchise history and sounded like a song drowned in drunken remorseful sorrow. The lead actress should have been Felix Lighter's female agent who was artistic, beautiful, dangerous, nimble, tough, quick witted and more.
November 29, 2021
Daniel is my mentor he's younger but not young so Daniel is inspirational to young & not so young! All Bond movies where made to have fun watching We waited two years for this one! Looking forward to the next one no time to die is my motto!!!!
November 24, 2021
The story was well written. Especially the end, that was great acting by Daniel Craig!
November 22, 2021
The best since Diamonds Are Forever.
November 21, 2021
These bond movies are getting more boring, repitive and monotonous with each new movie.... this storyline was the usual Bond type of movie. It's just getting old. Yes, it's time to die and end them.
November 20, 2021
Great drama, action and chase scenes. Worth the trip. Ignore the negative reviews.
November 19, 2021
Settings were amazing, interesting storyline, big surprises