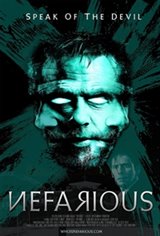 Nefarious
| 210 Reviews
Write a Review
In Theaters: April 14, 2023
On DVD/Blu-ray: August 15, 2023
4.64/5
Based on 538 votes and 210 reviews.
Please rate between 1 to 5 stars
Showing 41-50 of 210 reviews
May 9, 2023
Acting is much better then it deserves to be and you WILL leave the theatre thinking about this movie for a while.
May 8, 2023
The movie was outstanding and the actor himself who played the demon his performance was Brilliant
May 7, 2023
Excellent acting, pretty accurate what these entities do to people...Trgjic to watch how the man that was "owned" in prison was made to suffer...It shows explicitly that Lucifer/Ha Satan/Satan has NO LOYALTY TO ANY HE OWNS, NO LOVE, NO REGARD, SOMEDAY WHETHER A CRIMINAL, ILLUMINATI WEALTHY AND FAMOUS OR ANYWHERE IMBETWEEN, ALL THE SAME HE AND HIS DEMONS WILL TOSS THEM LIKE TRASH ONCE HE IS THROUGH WITH THEM!
May 7, 2023
I've seen this 5 times so far, with different folks. I get/hear more each time, since the demon talks very fast and mumbles. The discussions afterwards are awesome. Brilliant and enlightening! Wow, just wow!
May 5, 2023
Great depiction of how the demonic works.
May 3, 2023
This is a real life movie. The deamon gives you the creeps but it sure wakes you up as to what's going on in our world today! A must see.
May 3, 2023
This is not scary...this is real life... It takes a demon to tell the good news in this day. It is incredibly well done. The key actors are truly committed to telling this story. Its not "preachy" but well thought out and deserves every accolade. I hope you find the message of this movie as moving and real as I did.
May 3, 2023
An awesome movie! It was so intense between the two main characters. Sean Patrick Flanery and Jordan Belfi were amazing! The message was inspiring, we should really pay attention to it!
May 3, 2023
Very well done. Great acting, intense dialogue. Makes a person stop and really think about things.
May 2, 2023
The demon scared the atheist into questioning his atheism. The acting was unbelievable. Even the supporting roles were spot on.