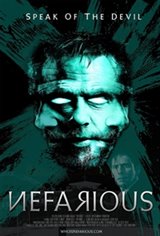 Nefarious
| 210 Reviews
Write a Review
In Theaters: April 14, 2023
On DVD/Blu-ray: August 15, 2023
4.64/5
Based on 538 votes and 210 reviews.
Please rate between 1 to 5 stars
Showing 1-10 of 210 reviews
August 22, 2023
Great acting. The movie hits some hot topics that most "critics" dislike, therefore the bad reviews from them. We see here again that critics reviews no longer matter.
August 1, 2023
Was a good movie, not the greatest movie ever. I gave it five stars, because it was good to see a quality produced movie deal with the reality of good and evil and not come at it from an anti religion viewpoint. Funny how all these one star reviewers love horror movies but when a movie confronts them with the real evils in the world, that are embedded in our society, they are quick to knock it. Makes the point of the movie. Better to justify the evils that are committed everyday, than deal with the real spiritual issues surrounding them. Bottom line, if you don't have an open mind, don't see it; again, that makes the point the movie.
July 26, 2023
What a great message. People need to watch this movie and the main character (prisoner) deserves an award
July 12, 2023
Wow! Any movie worse than Sound of Freedom has to be realllllly bad! And this was it!
July 4, 2023
This movie is a complete waste of time. The acting, special effects, direction, score, and story are all b movie at best. The fact that there are people that think this is a story about what is really going with god and the devil is really just sad. Please take yourself to watch something really good like Cocaine Bear.
June 30, 2023
Excellent movie in terms of content, acting, script.... Surprisingly entertaining and brain busting. If you think you are a detractor you must watch it.
June 26, 2023
Avoid at all costs! This movie is just soooo bad!
June 22, 2023
Oh please do not watch this movie, it is really bad.
June 22, 2023
Bad Bad Bad! I live in Toronto and am a devout Muslim and this was just so hard to sit through!
June 20, 2023
I saw this on the television the other night and must say this was not very good at all! Poorly conceived ideas are the least of this movie's problems!!!