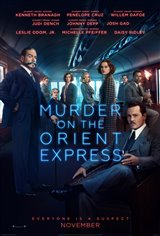 Murder on the Orient Express
| 85 Reviews
Write a Review
In Theaters: November 10, 2017
On DVD/Blu-ray: February 27, 2018
4.27/5
Based on 568 votes and 85 reviews.
Please rate between 1 to 5 stars
Showing 41-50 of 85 reviews
November 18, 2017
well done version, very good acting. As an Agatha Cristie fan I was not disappointed.
November 18, 2017
A big, resounding BOOOO! For Agatha Christie fans, watching Kenneth Branagh attempt to recreate Christie's little Belgian detective was painful. What an abomination. Hercule Poirot meets James Bond. The accent was bad, his physical appearance is the polar opposite, the dialogue, the mannerisms, I could go on. Hercule Poirot was NOT ATHLETIC. This movie is strictly for fans of the action genre, it has no resemblance to anything Agatha ever wrote and especially not her best-selling novel Murder on the Orient Express.
November 18, 2017
LOVED IT!!!!! #PENELOPE CRUZ!!!!!
November 17, 2017
GREAT MYSTERY MOVIE
November 17, 2017
As a spoof (surely) of the Christie book, this film ranks right up there with the wannabe 1985 comedy "Lust in the Dust." Does anyone (really) take this seriously --the five-star ratings and kudos notwithstanding?
November 17, 2017
This movie was well done. I have seen earlier versions and liked the way it ended.
November 17, 2017
The best rendition of this classic story ever!!!
November 17, 2017
The movie is slow and a tribute to Kenneth Branagh playing Kenneth Branagh. The 1974 version is much better
November 17, 2017
Even if my dog ripped up my entire house, I still wouldn't lock it in the same room as this movie. Horrible acting with bad accents, and the most unsatisfying ending ever. I'd rather go get my teeth cleaned than watch this again.
November 16, 2017
EXCELLENT