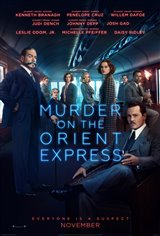 Murder on the Orient Express
| 85 Reviews
Write a Review
In Theaters: November 10, 2017
On DVD/Blu-ray: February 27, 2018
4.27/5
Based on 568 votes and 85 reviews.
Please rate between 1 to 5 stars
Showing 31-40 of 85 reviews
November 22, 2017
I fell asleep multiple times. But my husband really liked it :)
November 21, 2017
Loved the movie! My friend almost fell asleep, but I thought it was riveting!
November 20, 2017
Do I have to give it any stars !! . Terrible, , honestly one of the worst movies I have seen , BIG disappointment . Wonderful cast with one or two lines each , very tongue in cheek. One good thing my husband had a lovely sleep .
November 19, 2017
Saw this movie today, absolutely loved it.
November 19, 2017
FANTASTIC!!!!!!!
November 19, 2017
Went last week to see this movie with my husband. Jeez -and that's not good. Dozed off TWICE, as did hubby and I NEVER doze of in a movie, well, very rarely. The setting was lovely. That's it! The plot was pathetic. Johnny Depp doesn't really explain why he's frightened for his life at all. I don't even REMEMBER Judi Dench having lines. It was a good cast and NOTHING more. REALLY felt let down. G-d knows how much Depp was getting for that. He had the least to say and do. It's an insult to bad movies!
November 19, 2017
A remake is a remake is a remake; the original is also hard to live up to; and this one didn't do well.
November 18, 2017
So-so. Purist Agatha Christie fans should lighten up - who cares if Poirot was embellished. A movie should not necessarily carbon copy the book - Branagh was fine in the role. A bigger problem may have been the fantastical improbability of the entire mob murder and their attempt to cover it up. It just seemed kind of far fetched to me. But kind of enjoyed it still. 3 stars.
November 18, 2017
Kenneth Branagh did a good job directing the film but could have found someone other than himself to play Poirot. Otherwise an excellent movie and a great cast.
November 18, 2017
Beautifully filmed, engaging story, well acted!