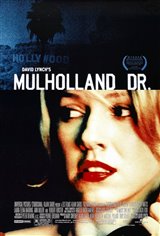 4.25/5
Based on 4388 votes and 25 reviews.
Please rate between 1 to 5 stars
Showing 1-10 of 25 reviews
January 30, 2005
Dude just threw a bunch of loose ideas together and decided it was a movie, far as I can tell. I`ve read some explanations for it, but you just can`t make that complicated a concept into a movie properly, man. Then again, this is the only movie of his I`ve seen, so maybe having no idea what`s going on is an aquired taste.
October 27, 2004
There are movies that are deep and poetic, but this is too much. It was too weird to be interesting. It just became dumb even though it's not.
September 27, 2004
honestly david lynch manages to give me everything i want in a movie. i thought the film was totally amasing and visually stunning.how does he do it time and again.
March 30, 2004
definately my favourite movie. Lynch is an absolute genius with fantastic performances all round.I would have liked to have seen this as a series.
January 22, 2004
All I can say,brilliant.A masterpeace.
August 26, 2003
Very good, very freudian, a journey into a mind troubled with parental fixations. Extremely symbolic.
February 3, 2003
I`d like the 2-1/2 hours of my life back. i never watched twin peaks.. so i have no clue what was going on here!? the sound quality was terrible, i literally had to adjust the volume every 30-45 secs. - & who were those actors? it build me up for answers that were never provided. he could of at least put a 2 hour commentary at the end to explain what goes on the whole movie. watch it again to find out? u wish... snore
June 25, 2002
Brilliant. Lynch`s masterpiece so far. Well written...great acting...great directing. You have to see it more than once.
May 29, 2002
Maybe it was me and my friend`s mood, but we couldn`t even get through 3/4 of the movie. The first thing was that there seemed to be too much going on, and not enough explanation. Secondly, I think the casting directors must have pulled some of the actors right off of the stage, and tried to make them film actors! The acting overall, really sucked! Thirdly, there were some definitely corny corny lines. All the good I can really say is that the cinematography was of a very professional quality, and that maybe it could have been a good movie, given many many changes. But I should try watching it again when i am not so tired, mayeb that`ll
May 13, 2002
Lynch is a kind of Jacques Cousteau of the postmodern nightmare, where our cartoonish notions of family values and the American dream are ravaged by an undercurrent of forbidding treachery. And with apologies to Wallace, it`s about much more than peanut butter or, for that matter, Pabst Blue Ribbon ("Blue Velvet") and cherry pie ("Twin Peaks"). It`s about decent people cornered by obsessive evils we can`t clearly see.