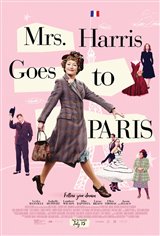 Mrs. Harris Goes to Paris
| 22 Reviews
Write a Review
In Theaters: July 15, 2022
On DVD/Blu-ray: September 6, 2022
PG | Drama | 1h 32m
4.38/5
Based on 58 votes and 22 reviews.
Please rate between 1 to 5 stars
Showing 1-10 of 22 reviews
September 19, 2022
loved everything about this movie totally entertaining loved the message and so refreshing showing an older women as beautiful and intelligent thank you !!!! ??????
September 18, 2022
The year's best action movie.
September 17, 2022
I watched the trailer and thought it might be ok. So I took my 12 year old nephew to see it. We both loved it, and we would watch it again. A very heart warming story. With great acting all around.
August 23, 2022
First of all this movie is not for Gen Z who many have a very low attention span unless there are those into reading books or have an interest in fashion and historical times. This is the type of movie that has an ACTUAL story, entertaining script and acting, and makes you feel good at the end. No explosions, body count, or Taylor Swift music. I loved the storyline and location photography with it's rich and vibrant colours. Sure it is a bit of a phantasy, but if it makes you feel good and routing for the main character then it has accomplished it's objective. Oh, and there is no Marvel heroes in this one either. Not an Oscar contender, but may get some nominations for wardrobe, screenplay, and cinematography. Did not know any of the actors in this movie, however I know the principal ones now. Will see it again.
August 16, 2022
Absolute delight! A little Mary Poppin-esque. Maybe it's just the accent! I'd like to meet this character. Good, clean, humorous fun! Worth seeing again.
August 13, 2022
Agree that it will be a classic…good story line .. would go to see again…
August 10, 2022
Overall good movie. Thought I wasn't going to like it but changed my mind and was a movie worth watching
August 7, 2022
Slow, predictable plot along with bashing of well-off people and glamorizing workers as though they are the only ones with a conscience. The main actress's performance and gorgeous gowns on display were the only highlights of the movie.
August 6, 2022
Plot, acting both excellent