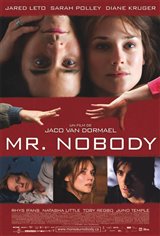 4.11/5
Based on 72 votes and 5 reviews.
43.24%

35.14%

16.22%

0.00%

5.41%
Please rate between 1 to 5 stars
Showing 1-5 of 5 reviews
August 9, 2010
All I can say is this was an amazing movie! Very captivating from start to end!
July 30, 2010
I found this to be a mediocre movie, of mild interest. Though my husband liked it.
July 29, 2010
Really genuine and down to earth. Loved it.
July 27, 2010
I saw Mr Nobody last night in a jam-packed theatre. I guess that the main reason for this is that I am in Belgium and the writer/director is Belgian. The response of the audience was amazing. I was in Flanders and so the film wasn't dubbed
July 20, 2010
Larger than life vehicle for Jared Leto and he doesn't disappoint. Great script and acting sets this film well above 75-80% of other films out there. Movies don't get much more entertaining than this.