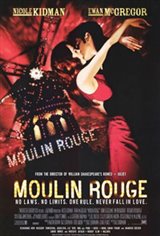 4.27/5
Based on 2654 votes and 112 reviews.
Please rate between 1 to 5 stars
Showing 1-10 of 112 reviews
March 4, 2019
Weird that people hate it or like it. IT WAS SO GREAT! How wonderfully amazing. If you love music, The Beatles, Elton, Police, or Madonna, treat yourself to this movie. A wonderful twist of awesome. If you don't like the first 5 minutes, you better just leave. I've rewatched this many times and it's a tear jerking wonderland!!! XOXOXO!!! The whole movie is great and no plastic surgery on Kidman is a plus.
February 25, 2018
I usually don´t stop watching movies at the beginning even if they are nothing special. But this was so weird and boring at the same time I couldn´t finish it.
July 12, 2007
you cant call something a musical when all they do is steal songs from other people! they hired 100 of the worlds best ballroom dancers only to not show them at all in the movie. i was completely let down by this movie, the only saving factor was the song roxanne. this movies version far surpased the police's original song.
March 10, 2007
SpeCtacular sPectacular!..the movie aMazed me...
February 24, 2007
a very good movie.Im a sucker for the song "Roxanne"
January 4, 2007
it is fantastic!!!
November 25, 2006
Amazing! I loved the music, singing, costumes...everything! It had a very unique and creative director. Simply amazing. Also, it teaches how love is the most important thing on Earth.
July 18, 2006
OBI-WAN-KENOBI SINGS!!! This Movie was MIND BLOWING! I`ll take his version of(`Your Song`-correct title?) over Elton Johns anydaY! And to that guy who said he got up after 5 minutes of the film; Than how do you know it sucked...? Wow...I still can`t get my head around Obi-Wan singing out, "The hills are alive with the sound of music....!"(Did anyone here correctly what the narcoleptic suggested before dropping back on the bed? "The hills are vibrant with sonic rythems..." or something equally outragious. I died lafin). My new most favorite musical next to the TRUE, ORIGINAL Willy Wonka & the Chocolate Factory & Chitty chitty Bang Bang(tha
April 28, 2006
c`est tres bien luv sophie and katie
January 24, 2006
this was one of the greatest movies of all time