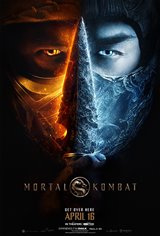 4/5
Based on 40 votes and 8 reviews.
53.33%

20.00%

0.00%

26.67%

0.00%
Please rate between 1 to 5 stars
Showing 1-8 of 8 reviews
May 21, 2021
Loved that it wasn't like the last one based off a tournament
May 1, 2021
For a reboot, I enjoyed this setup to the Tournament that is coming.
April 27, 2021
Having played the first arcade game back in the 90s, it was nice to see a movie with the capable effects. A couple of sappy lines here and there and I would've cast Raiden and Shang Tsung differently but still pretty epic. The fatalities where crazy good. Kano was so funny as well. Oh, and rate the movie, not the theatre experience. smh.
April 26, 2021
So much better than the new KINO movie. I've seen it three times already!
April 26, 2021
The fight scenes, and there were a lot, was just to unrealistic. Too fake. Ruined the movie for me.
April 26, 2021
My Son and 2 of his friends paid $8.00 extra for the "D" box experience, but nothing was different. What was the extra money for????The seats didn't even recline, move or even comfortable.. What a rip off.. My Son and his 2 friends should get their $8.00 back or free movie tickets. So don't waste your money at this Theatre for D Box non experience.
April 24, 2021
Loved the stunts ! Great action movie.
April 10, 2021
Better than ever!